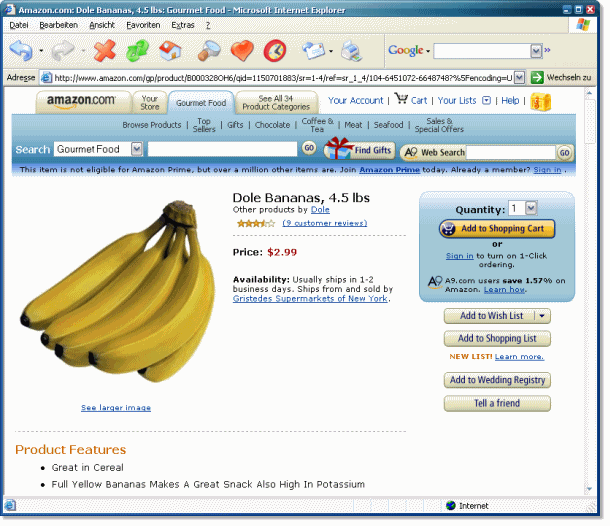 Oder wie wär's mit einem Sheboygan Bratwurst Sampler Pack 1?
Bei Amazon.com gibt's jetzt auch Nahrungsmittel. Insbesondere auch frisches (?) Obst. Wäre doch mal spaßig, so was nach Deutschland zu ordern – so mit Zollabfertigung und allem…
Aber am allerbesten sind die User-Bewertungen:
Having never tasted a banana before, I thought I would treat myself by ordering some from Amazon. To my astonishment they are more delicious than turnips.

I have always been afraid of putting such a suggestively shaped fruit into my mouth. I fear the taunting I will receive from my co-workers, but in private, I decided to eat one.

Now, I always keep one in my pocket in case I get hungry. I have noticed that my female co-workers have taken an interest in the banana concealed in my pantaloons. Be the generous person I am, I am very willing to share my banana.

I absolutely love the mushy texture of this fruit. When you mash it up in your mouth it tastes great!